The entire amount for the Kimsar project has been collected! The results are visible and we have received many thanks and blessings from the women's groups from Kimsar for the 10 rainwater collection tanks that have been built in the region in recent months. At the home of the 72 year old Ms. Bimla Devi is now a tank with a capacity of 5000 liters.

She says: "This is such a valuable gift! It brings a lot of relief for me and my husband on our old age. This tank breaks through the routine and great effort that we had to do every day to get to water '.
---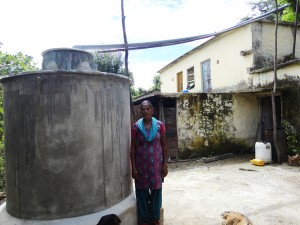 Ms. Anita Devi has a daily struggle to keep her head above water as a farmer. She has worked hard to build the water tank at her house.
When the tank was finished, she said: "I am very satisfied with the tank. It saves me more than a kilometer every day to get water. I want to thank all those who have contributed to the project.
---
There is a nice (interim) report of what has happened in Kimsar in recent months, with photos of all the people who have received a tank. Also images of the 20 ponds that have been dug to collect rainwater and the planting of 10,000 cuttings of deciduous and fruit trees in seven villages.
Our local partner organization HIMCON says that the activities have brought a lot of positive energy, togetherness and festivities in the communities involved. The entire project will be completed before the end of the year. There are still (environmental-related) training sessions for women's groups and restorations on a number of old water tanks.
HIMCON thanks HIMALAYA RESOURCES and Wilde Ganzen in detail, and through us, all donors who made this possible.
Beautiful results in Kimsar!